the original drainage cell
The Atlantis Flo-Cell® drainage system is an Atlantis flagship product invented and developed by the founder of the company in 1986.
The product was developed to facilitate adding roof top gardens and planter boxes to building construction without adding heavy aggregate as drainage that placed severe limitations on the structural design of the building. The product provided a structurally strong structure, highly effective drainage and lightweight properties that was so successful that the drainage cell became an landscaping industry standard.
| Part Number | 80020 |
| --- | --- |
| Part Size | (H) 20mm (W) 406mm (L) 620mm | (H) 0.79" (W) 15.98" (L) 24.41" |
| Part Weight | 480 grams (1.06 lbs) |
| Ultimate Strength (RECYCLED PP) | 90 TONNES / m2 (128 PSI) |
| Flow Rate | 0.65L/sec/metre width @ 1% gradient (BS EN ISO:12958) |
| Material | 85% Recycled Polypropylene 15% Propriety Selected Materials |
| Part Number | 80033 |
| --- | --- |
| Part Size | (H) 30mm (W) 575mm (L) 575mm | (H) 1.18" (W) 22.64" (L) 22.64" |
| Part Weight | 720 grams (1.59 lbs) |
| Ultimate Strength (RECYCLED PP) | 50 tonnes/SQM (100 PSI) |
| Flow Rate | 1.41 Litres/Sec/m @ 1% gradient |
| Material | 85% Recycled Polypropylene 15% Propriety Selected Materials |
| Part Number | 80050 |
| --- | --- |
| Part Size | (H) 50mm (W) 575mm (L) 575mm | (H) 1.97" (W) 22.64" (L) 22.64" |
| Part Weight | 1650 grams (3.63 lbs) |
| Ultimate Strength (RECYCLED PP) | 140 t/m2 (199 PSI) |
| Flow Rate | 2.56 Litres/Sec/m @ 1% gradient |
| Material | 85% Recycled Polypropylene 15% Propriety Selected Materials |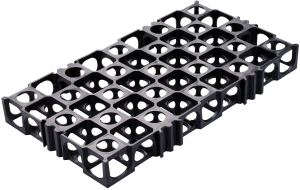 | Part Number | 80052 |
| --- | --- |
| Part Size | (H) 52mm (W) 260mm (L) 480mm | (H) 2.04" (W) 10.24" (L) 18.90" |
| Part Weight | 750 grams (1.65 lbs) |
| Ultimate Strength (RECYCLED PP) | 155 TONNES / m2 (220 PSI) |
| Flow Rate | In-Plane Flow Rate @1% gradient (BS EN ISO:12958) 2.56 Litres/Sec/m width |
| Material | 85% Recycled Polypropylene 15% Propriety Selected Materials |
| Void Ratio | Volume Void: 90%            Surface Void: 70% |
| --- | --- |
| Materials | 85% recycled polypropylene, 15% proprietary material |
| Bio-Chem Resistance | Unaffected by mold, algae, chemicals & hydrocarbons |
| Service Temp | -10°C to 70°C |
| Material Lifespan | 100+ years (underground install) |
| | 20mm Flo-Cell | 30mm Flo-Cell | 50mm Flo-Cell | 52mm Flo-Cell |
| --- | --- | --- | --- | --- |
| Flo-Log (French drains, trench drains, etc) | Standard | Standard | Standard | Standard |
| Flo-Wall (Wall infiltration, hydro-static pressure relief) | Standard | Custom Order | Standard | Standard |
| Horizontal Drainage (Turf/artificial grass drainage etc) | Standard | Standard | Standard | Standard |
| Turf & Gravel Cell (Reinforcing roads, driveways etc.) | | | Standard | Standard |
| Titan Tank (Heavy duty underground tanks) | | | Standard | Standard |
| Vertical Gardens & Decoration | | | Standard | Standard |